Neighborcare Clinic, Seattle, WA
This sculpture commission doubles as the donor wall for the new Neighborcare Clinic in Seattle, WA.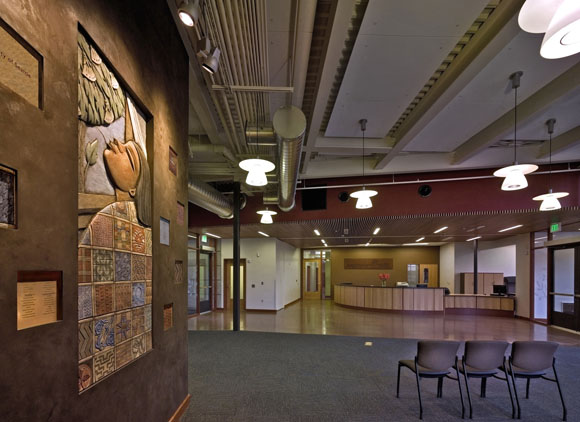 Working in collaboration with the artist, Miller-Hayashi Architects specified a series of niches to be built into a wall in the main lobby to house the 6 1/2′ tall sculpture as well as the surrounding donor tiles.
In the finished sculpture, a woman in a quilt turns her face up toward an open window and the blossoming tree outside.  The quilt that is wrapped around her is made up of sculpted textile patterns from around the world, some of which were gathered and sent to the artist by the staff of the hospital.  The varied patterns speak of the diverse community that the hospital serves.  The quilt, the open window, and the blossoming tree suggest a sense of healing and well-being.
Surrounding the sculpture will be a series of square tiles inset into the wall.  These will also sculpted in architectural terra cotta, and they will have the names of the many donors incised into their surface.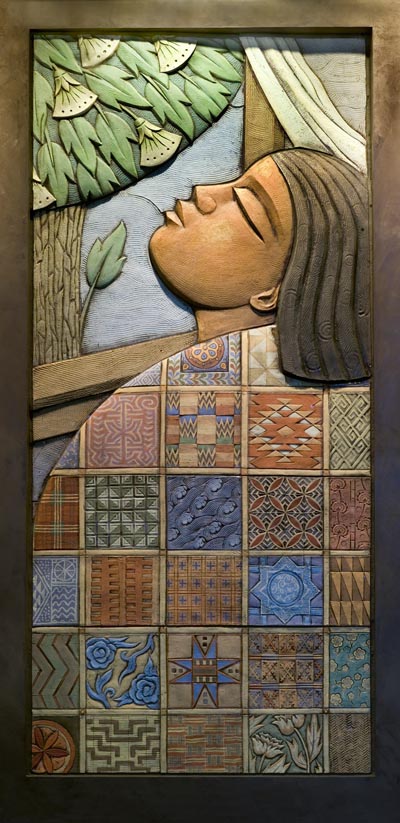 The Quilt,  architectural terra cotta, slips, and glazes.  6.5′ tall by 3′ wide.