LaSalle Building, Baton Rouge, LA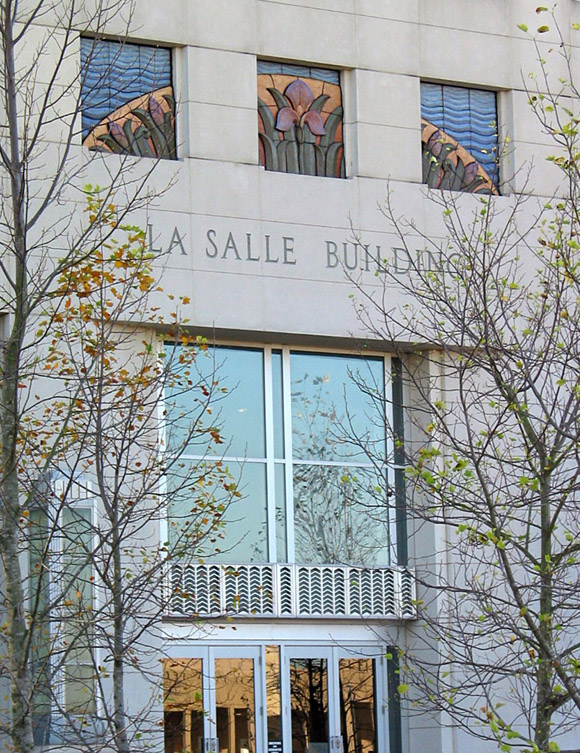 Louisiana Iris and Southern Magnolia
These six sculptures form two triptychs depicting native Louisiana plants.  On the north side of the building the sculptures form a three-part image of a cluster of Louisiana Irises.  On the east entrance, the sculptures form an image of a Southern Magnolia as it passes from a new bud, to a ripe flower in bloom to its final stage as its petals fade and fall off.  In the right niche one of the petals has been sculpted as a separate  element detached from the background relief.
It sits on the sill of the niche (with a robust series of stainless steel anchors holding it in place), as if it had fallen from the fading flower and  come to rest there on its own.
The simplified and stylized images are intended to reference some of the traditional Beaux Arts architectural details in the capital square, such as the carvings that currently adorn the Louisiana State Capitol Building nearby.  The forms and shapes relate to the geometry of the La Salle Building, but also lend some contrasting softness to the otherwise rigid lines of the building.
The Louisiana Iris (Iris giganticaerulea), and the Southern Magnolia (Magnolia grandiflora) were chosen as sculptural subjects for their relevance to the cultural and natural identity of Louisiana, as well as for the fact that their natural shapes are well suited to be transformed into stylized and streamlined sculptures.  Images of water fill the low arcs in the background – a reference to the Mississippi River which flows through Baton Rouge nearby the Capital Mall where the LaSalle Building is located.